Account Management Made Easy
The SmartHub app can help you take control of your electricity use and your CVEC account like never before. Whether through the web, or your smartphone or tablet (Android or iOS), you'll be able to pay your bill, monitor your electricity use, contact member services and much more.
As soon as you log in, you'll be able to view your billing history and make a payment within a couple of clicks. You can also view your daily electricity use to see how your use is trending over time, which allows you to take steps to lower your bill.
What you can do with SmartHub
Manage Your Account
View and Pay Your Bill
See Electric Usage
Report Outages
View Outage Map
Receive Notifications
Contact Us
Registration Instructions
To access your CVEC account you will need an email address, your account number, and the last name of the account holder. Your account number is located on your bill and should be entered exactly as the example bill below shows. First time users, Click Here to register your account.
If you need assistance with registration, please call our office, 325-655-6957.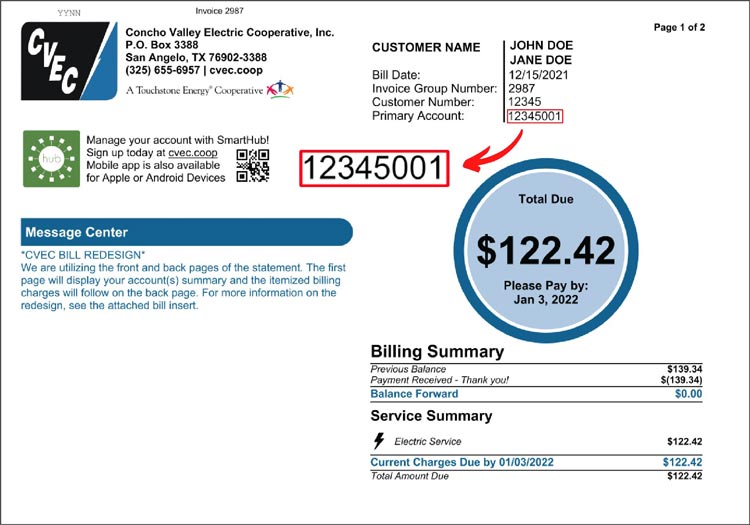 SmartHub App
Once you have registered, you can access your usage and pay your bill from your mobile device using the SmartHub App. Download the Apple® or Android® app by clicking one of the buttons below from your mobile device.
Upon launching the app for the first time, choose "Concho Valley Electric Cooperative" from the providers list. Next, enter your email address and account password. If you need assistance installing the SmartHub app, please call 325-655-6957 or stop by the CVEC office.
Now that you have registered your SmartHub account, click here to see an overview of the many account management tools available.